---
UNESCO Intangible Cultural Heritage
Morse (de) Morse (fr/PDF) Morse (MoIP)

---
Good reading
The Art & Skill of Radio-Telegraphy
William Pierpont, N0HFF (SK)
Zen and the Art of Radiotelegraphy
Carlo Consoli, IK0YGJ

---
Morse Code (Wikipedia)
High Speed Telegraphy (Wikipedia)
---
CW Clubs

Clubs in 'CW Club Call History' files



4SQRP1
9AQRP1
A1 Club (JA)1
A1 Op.1
AGCW-DL1
BTC1
CCT1
CFT1
CQC1
CQCW1
CTC1
CWJF1
CW Operators' Club1
EAQRP1
Essex CW ARC1
FISTS1 'Keynote'

FMC1
FOC1
FPQRP1
GACW1
GPCW1
GRT1
Greek Telegraphy Club1
HA CW Group1
HSC (25wpm)1
VHSC (40wpm)1
SHSC (50wpm)1
EHSC (60wpm)1
HTC (HB9)1
IQRP1
KCJ1
LIDS1
Marconi Club / ARI1
MCWG1
NA QRP CW1
NEQRP1
NOC (Number One CW)1
OECWG1
OKDXF1
OKQRP1
OOTC1
Pro CW (YO)1
QRPARCI1
QRQcw1
RCWC1
RUQRP1
SCAG1
SKCC1, 5
SOC1
SPCWC1
SideSwiper Net1
Telegraphy Friends Club1
TOPS1 Obsolete, but still used in some scoring
True Blue DXers Club1
UFT1


ITC1

exFOC1
INORC1

MF1

Other CW Clubs6

Benelux QRP Club
CW Operators' QRP Club

CWSP

DLQRP

DTC

(

new

)

EACW
EUCW
G-QRP4
LICWC

Morse Enthusiasts Group Scotland

NorCal QRP
Radio Telegraphy Club
UCWC
UTF


RSARS

1



Tortugas CW
Pacific NW QRP

ScQRPions (AZ)





Broken CW Club sites



FOG (Fast Operator Group)
Morse Telegraph Club



Others with a high CW interest

GMDX
CDXC
Top Band DX Club

RAFARS
RNARS

ROA


ROARS

(two fer one!)




Footnote(s): 1. Members listed in CW Club CallHistory files
2.

New

to Club CallHistory files
(please check file operation, after my QA)
3. Coming soon to CW Club CallHistory files
4. Don't want to be included in Club CallHistory files, for some strange reason

5. Largest (and fastest growing) CW club in the world
6. These don't list their members
---
Club images/logos on this page © Copyright original owners
---
I'm a member of:




---
Morse Practice Software


Moved to the Latest Applications page (Ham area - Applications - Morse)


---
Morse Practice Online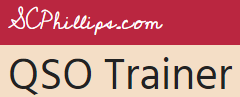 (I'm currently at

callsigns: 44wpm

and approaching my on-air [noisy] rate of 48wpm)


Zoom and Skype are used for one-on-one tutorials by some groups
---
Morse Practice Hardware

Simple Oscillators (CPO): Kent kit, MorseX kit, 555 oscillator diagram K1EL Code Practice Oscillator kit
A seriously clean Oscillator: KF7CX circuit
(based on Smooth Tone Osc)

More complex trainers: Morserino, K1EL Morse Tutor/Keyer kit
, MFJ
(various, quite expen$ive)
---
Electronic Keyers
With USB interface:
Mortty
nanoKeyer
(+Arduino Nano v3.0/FTDI) K3NG info TinyKeyer K1EL
No USB interface: Ultra PicoKeyer PicoKeyer Plus Logikey 4SQRP
More: Microham Mtechnologies Jackson Harbor Press MFJ QRPworks

---
Keys, Bugs, Sideswipers and Paddles

(under construction)
CW everywhere......

Schurr -Scheunemann Vibroplex / Bencher Begali Kent G4ZPY N2DAN Chevron

Imel M1

RA Manufacturing

Bulldog

March


WK4DS I1QOD LC Variable N3ZN Keys American Morse Equipment NT9K Plastic Concepts STAMPFL
UR5CDX Paddlette HA8KF CT Hand Keys Whiterook IK1OJM VizKey W1SFR GHD CWMorse QRPGuys

---
Coastal Radio stations

Maritime Radio Historical Society (USA)
Maritime Radio NZ (ZL)
---
Telegraph (

not

radiotelegraphy)
3D printing taken to ridiculous lengths!
---
Morse Online
(live)
Virtual channel (CWCOM)
iCW (via QRQcw)
---
HST - High Speed Telegraphy
HST 2019 World Championship - September 2019
---
CW Club stats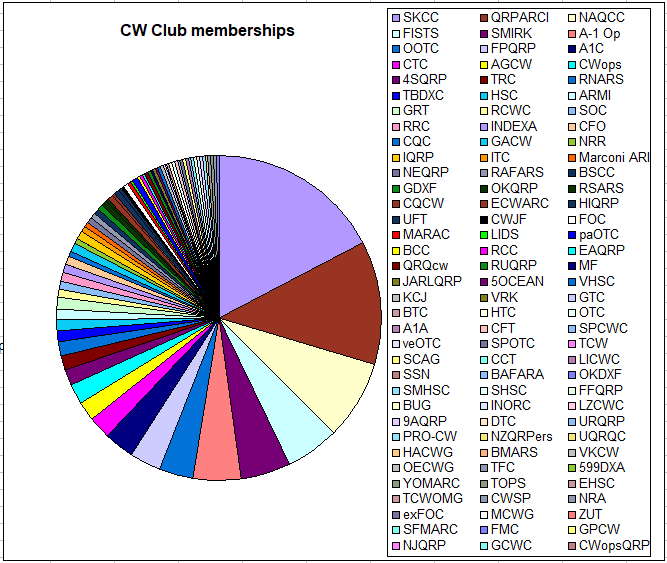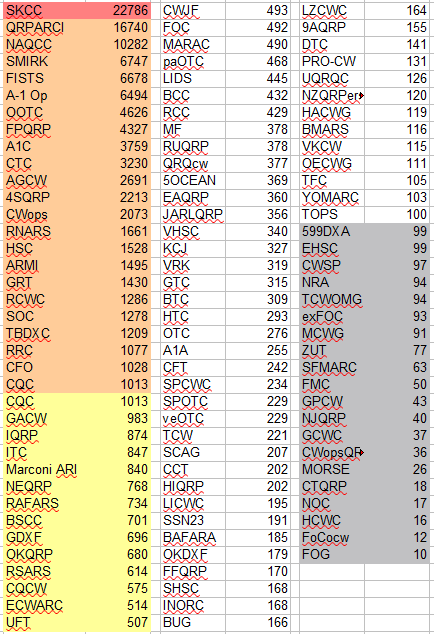 Interesting? 'Minority' interest clubs dominate -

*

Straight key and QRP.


*

Paid-for clubs are held back - notably CWops.

*

Speed, size or other limitation.

---
---
© 1972-2019 G4BKI. All rights reserved.